Posted by Snoopman × August 5, 2015 at 12:51 pm
New Zealand's Minister of Trade Tim Groser asserts a persistently arrogant attitude and dangerously anti-democratic behaviour in regard to the ongoing Trans-Pacific Partnership Agreement (TPPA) negotiations. Groser claims that the secrecy veil over the TPPA negotiations is necessary to prevent "full disclosure [because it is] likely to lead public debate on an ill-informed basis".
However, thousands of New Zealanders, who have been following the Trans-Pacific Partnership issue for several years, know that with this deal transnational corporations will gain a one-way mechanism to sue the NZ government in secret tribunals over any laws, treaties and oversight that their wealthy owners deem to impede their expected future profits.

Indeed, critics agree the Trans-Pacific Partnership Agreement (TPPA) is not a 'free trade' deal. This secret investors' agreement is really a Mega Cartel Deal. Vast transnational corporations seek to create huge economic blocs to dominate markets, up the ante in economic warfare (AKA 'the Shock Doctrine') and construct corporatized totalitarian superstates, as Snoopman makes clear in his latest think-piece, Almost Fully Operational: The Mega Cartel Death Star.
Below are details for the Nationwide Rallies & Marches for Saturday August 15 (and other actions) to oppose the TPPA (Trans-Pacific Partnership Agreement). Click the embedded links for more details, including localized flyers and posters. See attached Flyers and Posters for the Auckland Aug. 15 Rally & March 1PM (Theme: 'Democracy is Dying' – Street Theatre).
Please share this information by email, social media and print. A thousand flyers can be distributed on your half-hour walk through your neighbourhood.
And come walk on the day, even if it's simply to learn what the criticism is, to see the nuances of the issues that the news media misses, or to experience grown-ups protesting in a safe, spirited creative way!
The Trans-Pacific Partnership Agreement (TPPA) explained at: http://itsourfuture.org.nz/what-is-the-tppa/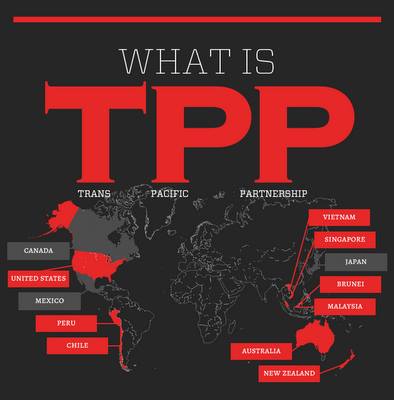 TPPA Action Week Nationwide, New Zealand
8-15 August 2015
These details are subject to change and events may be added to this list, so make sure you check in on www.itsourfuture.org.nz for the latest updates ahead of TPPA Action Week. If you want to organise something in your area, please contact [email protected].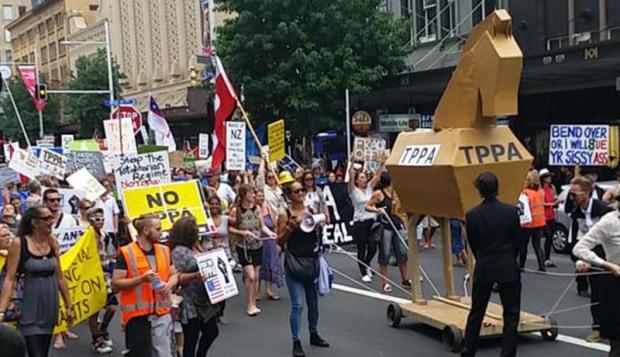 Hokianga
15 August protest, 11am at Kohukohu Village Green.
Whangarei
15 August protest, 11am at the Town Basin.
Auckland
15 August protest, 1pm at Aotea Square to march down Queen Street, featuring speakers and music.
Hamilton
 15 August protest, Meet @ 1pm outside Cock and Bull carpark on corner of Church and Maui.
Tauranga
 15 August protest at 1pm, Red Square.
Napier/Hastings
15 August protest, 1pm, location to be announced.
Wanganui
8 August protest, 1pm, march from Silver Ball in the market to Majestic Square.
New Plymouth
Protest planned, details to come
Palmerston North
(Before Action Week) – At 7pm on July 29th Palmerston North City Library is hosting a panel discussion on the TPPA, featuring Assoc Prof Jeff Sluka, Dr Deborak Russell and Dr Shamin Shukur (compere: Assoc Prof Bill Fish).
Art and photo exhibition planned with accompanying information, concert and talks
8 August Rally and concert, 1pm – 3:30pm in the Square in the quadrant opposite The Plaza. Keynote speech from Barry Coates, including Dr Romauld Rudzki, Dr Deborah Russell, Dr Jeff Sluka and Cr Lew Findlay, and local musicians.
14 August will be a concert in the library at 5pm, then documentary maker and investigative journalist Bryan Bruce will speak at 6pm on Poverty, Inequality & the TPPA.
Many committed P North activists will also be heading to Wellington on 15 August.
Wellington
7-13 August – The People Speak #STOPTPPA. NZ Photo exhibition (10am-5pm)
12 August – Lunchtime rally outside Parliament with politicians and speakers.
15 August – TPPA Walk Away! Protest action to stop the TPPA. Assemble at Midland Park and march to Parliament for speakers and music. More details to come.
Nelson
15 August protest at 11:00am, top of Trafalgar St – 1903 Square.
Christchurch
10 August political debate at 6pm, Canterbury Horticultural Society (57 Riccarton Avenue), featuring David Parker, Russell Norman, Fletcher Tabuteau and Marama Fox.
12 August film screening of 'Inequality for All" by economist Robert Reich, 6pm at The Auricle (35 New Regent Street).
14 August New Economics Seminar and Expo, 7pm at Horticultural Hall.
15 August protest at 12:30pm. Location: South Hagley Park (corner Deans Ave and Riccarton Rd) marching down Riccarton Rd.
Timaru
15 August protest planned, details to come.
Dunedin
15 August protest at 1pm, marching from the Dental School to the Octagon.
Invercargill
15 August protest, 12pm at Wachner Place.
Auckland Light Brigade
FLYERS